LODGE HUNTS
Coffeepot High Country Base Camp on the Cimarron Game Management Unit 65 Guided 4×4 Hunts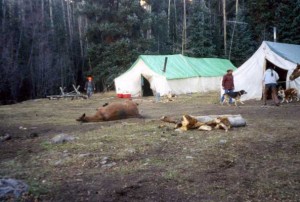 We are again pleased to offer guided hunts based out of the Coffeepot High Country Base Camp on the Cimarron in Game Management Unit (GMU) 65 located in the Big Cimarron area. We use private lands in combination with our Special Use Permits on the National Forest and BLM. Because of the restrictions for access into some of the more remote areas in the Big Cimarron and our private access into these areas our lodge hunts have offered an advantage to both the aggressive hunter and the hunter who needs just a little bit more TLC!. These hunts are the perfect answer for the hunting group that needs it all, from those who don't get around all that good anymore right on down to the youth hunters. We also like to use this hunt for folks who are less mobile and not able to fully enjoy our high country pack-in horse trips. We provide everything for you except your license and personal items. Your accommodations are warm and individually heated rooms with bedding provided, a common dining room. Each room sleeps three. Enjoy a hot shower after a long day of hunting or just relax. There is plenty of camaraderie and a wholesome hot meal waiting for you. You will enjoy a hot breakfast and supper served family style each day at the lodge, with sack lunches and plenty of snacks provided for your day out hunting. Guide service and retrieval of your game is included. Transportation from Montrose is available for those of you who fly, or you can drive directly to the camp. Four-wheel drive vehicles are advised for the December and January Cow Elk hunts.
These are five full-day 4×4 hunts where we take you to your hunting area for that day and pick you up in the evening. The hunting area is just across the river and up the mountain a very short distance from the lodge. You can literally glass your hunting lands from the camp. The ride is about 5 – 20 minutes based on how far up you go. This is considered a semi-guided hunt, but if you prefer a more individual type service you can upgrade your guide service to a fully guided 2:1 or 1:1 before your hunt begins. In the morning the guides will discuss the area to be hunted with you, and make a hunting plan for the day. Hunters are placed strategically by the guides based on the anticipated daily movement of deer and elk. Each person will be assured of a fair chance and checked on as needed during the day. We hunt a combination of National Forest, BLM and some private land. The time of year, weather, and game movement often determines exactly where we hunt.
With our semi-guided hunts the guide to hunter ratio is determined by the number of hunters in the camp or in your party and may fluctuate during your hunt. For example, the first day out we may have one guide place four hunters. Two hunters are successful, so the next day there may only be two hunters with that guide. On occasion there may also be other hunters joining you if necessary. We always do our best to accommodate hunters based on individual ability, the terrain to be hunted and the anticipated game movement and availability. These hunts have been successful and over the years we have enjoyed success rates as high as 80% on bull elk and 100% on bucks. We have also had years when we struggled to find game and our rate was just a bit above the state average of 23% harvest for elk and less for bucks. This is real hunting folks with unpredictable wild game! Even with private land, miles of national forest land and plenty of experience, we cannot guarantee you will take meat home. We do guarantee to do our best for you and send you home with some great memories and hopefully some new friends.
During your hunting day you are welcome to go back to the Coffeepot High Country Base Camp at any time to rest, eat, get warm, relax or maybe even get a little fishing in if you'd like. Horses are only used for game retrieval when necessary, making this the perfect hunt for those of you who are more comfortable with your feet on the ground.